First of all, there would not be an "Our History" if it were not for our valued customers and friends. We appreciate the confidence you have placed in us and strive to always meet or exceed your expectations.

Florida Awards and Trophy Company was founded in 1964 by Robbie's father, Jerry Robertson, Sr. It was his dream to own his own business. Jerry was employed by Southern Bell Telephone Company, where he worked for 35 years. In the evenings, he worked on developing the trophy business. Jerry was an extremely talented carpenter and craftsman. Unfortunately, Jerry became ill during the last years before his retirement from the telephone company and had to take an early retirement. He passed away in 1983 at the age of 57, long before he was able to fully realize his dream. However, he had set in motion an idea and developed a business that has served the Gainesville community and surrounding areas for more than 40 years.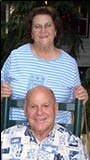 Every plaque they sold in the early years was hand-crafted in Jerry's home workshop from walnut boards that were carefully glued together and then cut out, sanded and finished with lacquer. Each of the trophy bases were also cut out of wood, sanded and finished. Also, they used to make their own ribbons for horse shows and other events. They printed the ribbons and pleated the ribbon for the rosettes. Each ribbon had to be individually assembled by hand. This was a very time consuming and tedious work. That's where the grandmas' help came in. They would have "family night" where everyone would sit around the dining room table after supper and put ribbons together. It was actually kind of funny, because the two grandmas seemed to be in a "silent" type of competition. They would The Family"race" to see who would be the fastest. Robbie's sister, Gwen, also helped out in the business doing ribbons and bookkeeping. (Just a personal note: Robbie's sister married Sandy's brother, Jimmy, who is a Salt Water Fishing Guide in Cedar Key.)
Robbie started working in the family business during his Sophomore year in high school. He graduated from Gainesville High School in 1971 and began working full time. After his father's death in 1983, he became owner. Robbie and Sandy were married in 1974 and have worked together to build a strong family bond as well as a business partnership. At some time or another, everyone in the Robertson-Keith family has helped out at the store, and many family friends have pitched in when needed. After Robby and Sandy's youngest child was 3, Sandy began working with Robbie in the business. Jody and Christie, their two older children, worked in the family business while attending college. They both are now teachers in a local Christian School. Their other children have helped out when needed and as time goes on, you'll probably see some of the grandchildren helping out to get the job done.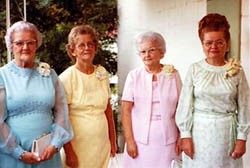 Pictured here is a photo of Robbie's mother, his two grandmothers and Sandy's grandmother. We want to recognize them because each of them had a part in helping in the family business. Robbie's mother kept the books after her day job at the bank where she worked for more than 30 years. With Sandy's grandmother's help, they were able to purchase more modern engraving equipment and their first commercial property, located at 1309 N.W. 5th Avenue.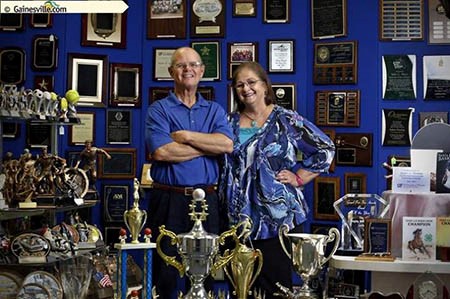 Our goal is customer satisfaction. If we please you, please tell someone. If we fail to please you or something is not up to your expectations, please tell us. We will work with you to achieve our goal, which is customer satisfaction, with honesty and integrity.
We have state-of-the-art equipment, quality products, and committed staff to work with you to create that special award or project.
It is impossible to show all that we do on this site. Please call us if you don't see what you're looking for and we'll try to find it or direct you to someone who can fill your needs.